Institute For Spiritual Guidance
Institute for Spiritual Guidance
Siena Retreat Center's Institute for Spiritual Guidance (ISG) was developed in response to the need for continuing education and growth of spiritual guides. Please see below for more information about specific programming:
A Day of Renewal for Spiritual Innovators
Friday, October 20, 2023
9:00am-4:00pm
Join Rev. Sue Ott-Holland for a day of reflecting on how our own journey and transformative experiences have revealed the plumb lines of truth that ground us as we explore how we might reimagine who we invite and accompany others into connection with the Divine.
Natural Dreamwork Workshop
Saturday, February 3, 2024
10:00am – 3:00pm
This day introduces spiritual guides to the process of Natural Dreamwork as a modality that can be used to work with dreams that are brought by seekers to spiritual guidance sessions. An experiential program, facilitator Julie Filipic will lead you through work with a dream of your won, as well as time for group sharing and questions.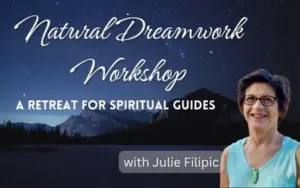 Spiritual Guidance and Mental Health
Friday, May 3, 2024
1:00-4:00pm via Zoom
Come, explore important questions regarding the relationship between therapy and spiritual guidance with seasoned psychotherapist and spiritual guide Pat Francis, OP, PsyD. This workshop will explore the interface between spirituality and mental health and what spiritual guides need to be attentive to when working with folks who are navigating mental health issues.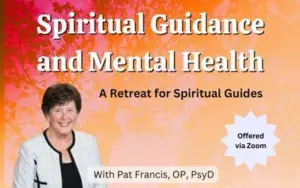 Supervisor Training Program
Through the paradigm of the Universe Story, we will explore how creation's gifts of interiority, diversity, and communion are intricately woven within every story shared. Together, program participants will develop necessary skills, become more aware of their own gifts, and work on their growing edges as trained supervisors. Through input, reflection, exercises, and supervised practicum they will grow in spiritual insight and the art and skill of supervision.
Program Elements:
Opening gathering at Siena Retreat Center: August 9-11, 2024
Practicum experience throughout the year

Accompanying two spiritual guides as their supervisor
Supervisions sessions with an individual supervisor from the training team

Closing Gathering Siena Retreat Center: August 8-10, 2025
If you would like to be notified when registration for this program opens, please email Nicki Nelson at [email protected].