Sabbath: An Ancient Practice Meets the Modern World Film Screening
Thursday, February 1, 2024; 1:00 PM or 6:30 PM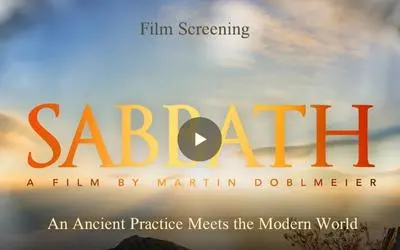 Overview
Sabbath—religiously mandated rest—has ethical and spiritual implications for the whole
human family. Come enjoy and learn from a documentary by Martin Doblmeier recently
released by Journey Films called SABBATH.
Told as a collection of short stories, SABBATH explores the history of one of the world's most important spiritual practices and its timeless relevance for a stressed-out, modern world.
From the Biblical accounts of Creation, to the Ten Commandments, to the Puritans landing in the New World, to the contemporary practice of a "tech-sabbath" SABBATH ties together our
collective history, our health practices, our response to God's invitation and the search for a
more sustainable way of life.
A brief discussion will follow each showing of the film. A study guide will also be available.
We encourage you to practice your own Sabbath by making a private retreat at Siena Retreat Center, this weekend or another. Learn more here or by contacting Nikki Madisen at [email protected].

Thursday, February 1, 2024
The two-hour film will be shown at 1:00pm and at 6:30 pm.
Cost of film: $8
You can register and pay online by clicking the register button above, by calling the front desk at 262-898-2590 with a credit card number, or by mailing a check made out to "Siena Retreat Center." Payment must be received to complete registration.
See our Frequently Asked Questions page for our cancellation policies and other helpful information.