Grace Received, Years Celebrated: A Day of Reflection for those age 60 and better
Saturday, April 1, 2023 9:30 am-3:30 pm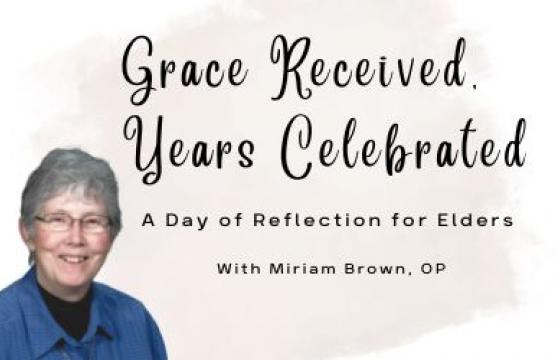 Overview
Those of us who have reached 60 years or better have a bounty of life experience, perspective, and innerness to bring to this retreat day of self-exploration and sacred celebration.
Looking back reflectively, as well as with an eye to the future, each of us will see more clearly the graces that have upheld us, flowing through our joys, griefs, zigzags, challenges, service, accomplishments, and loves. We will give thanks for the tenderness, grit, hope, and wisdom that have sustained and grown in us, making us gifts to those we love and to the world. With newly discovered gratitude, we will trust in these graces as our lives continue to call us forward.
Facilitated by Miriam Brown, OP
Saturday, April 1, 2023; 9:30am-3:30pm
Cost of $65 includes the mid-day meal.
You can register and pay online by clicking the register button on the right, by calling the front desk at 262-898-2590 with a credit card number, or by mailing a check made out to "Siena Retreat Center". Payment must be received to complete registration.
See our Frequently Asked Questions page for information on our health and safety protocols.